Many changes have been taking place and it's all good my friends.
There is so much to share and so little time… So, it seems.
Living in California has wiped me out TWICE now, so it's time to move on. I have never experienced a door being slammed shut in my face so many times, as I have since living here. And while tenacity and persistence are just a way of life for some of us, there is also a time to recognize when God says, "No." I came back here strictly because the weather has been the best for my health, but the stress and drama it's taken to survive here has not been worth it. 
I have always believed that when you come upon one of the many mountains in life, if you can't climb over it or go around it, then you have to find a way to plow right through the middle of it instead. However, I've finally concluded that THIS is not one of those times. How difficult it can be though, to discern whether or not it's a time to push forward and not give up verses, accepting and counting it as a blessing that God might be saying no instead.
*So, the doors just kept closing in Cali, I left my church for several reasons, and my real father died of Mad Cow's disease which, in turn, required seeking some very specialized medical care, because of my own issues. As a result, we now need to move from the West Coast to the East Coast, so I can get the best care possible and be surrounded by supportive loving people.
There are, of course, good things that we'll take with us from here and good things which have come from the bad even, so not all is lost by any means. Much growth and many lessons have been learned, both individually and as a family, but it's  definitely time to move on. 
Therefore, our options for residency which have the neurology specialist I need are located in MN, CA, TX, TN, WA and NY. We ruled out MN and TX, and we've both had it with Cali, so… East Coast here we come! If my medical issues are too much for TN even, they'll just send me straight to Baltimore or New York instead. In fact, that's where I should be going first, but I really can't handle the idea of snow again, so I'd prefer not to have to live in either of those places. Plus, they're just as expensive as CA, so that wouldn't help us much right now anyways. Our move is two-fold… To seek medical help and allow us an opportunity to get back on our feet. 
Now, I might also share that AS SOON as we made the decision to leave this state, suddenly many doors have been opening up, blessings have been pouring in, and the answers have been 'yes' instead of 'no' for both of us. I might explain a little bit about that though, because even the people we've met here in Cali who want us to stay now, didn't happen until we said yes to leaving, but that still doesn't mean we should stay. It just means we might be back for work or something later :) My daughter meeting some of her friends and my personal journey with some of Hollywood's dearest and sweetest didn't even happen until I said yes to moving and was on my way out of town. So, that's a really great thing and we certainly need and want to keep some of our connections here, but it's not where I'm supposed to live.
"As I look back on my life,
I realize that every time I thought I was being
rejected from something good,
I was actually being re-directed
to something better."
You know, I miss so much the southern hospitality, charm, friendliness and respect of the mid-west/southern regions. Where I come from (and that's a funny statement if you know anything about my story) your neighbor would never let you go homeless, allowing you to sleep outside or in your car. Here in CA, people just act like it's a norm and everyone goes back to their big beautiful houses, many of which are mostly empty, while you lay crying on the front lawn. Even if you have money to pay the rent (like we did) it still happens! Where I come from, people treat each other like Jesus would and aren't so full of fear. I'm not sure if I've ever seen so many people (in general) living with so much fear anywhere else before (fear of losing this, not making enough of that, hoarding and taking from another just so they won't be without or run out, etc.) This has been no way to live and I kid you not, at least 80% of people I've met here have all had the same kind of complaints and experiences whether they're famous or not. They talk about how great it once was, but how self-serving, distant and nearly impossible it is to make it here now, how they really don't have much of anything if they stop and think about it, and yet… They choose to stay.
People literally fight to stay homeless in California. Not me, not anymore… Talk about insanity! I'm no better, because I've actually done it twice now (LOL ~ Ugg ~ Errr ~ Sigh.) I think it's one of the reasons I came back here though. After living in over 40+ states, I never felt like I've failed anywhere except here, so I think part of coming back was to try and prove something to myself. WHAT, I'm not even sure, but I've since realized something… This is not my fight and I am NOT a failure. It has nothing to do with that. This isn't about me, my pride and ego. It's about where God is calling me to be whether I like it or not. Besides leaving the country, I've always felt a pull for where we're going now, but I've also avoided it and told God in the politest way possible, "No thank you Father… But, please bless me anyways." Hmmm…                       
It's amazing…




The way God works sometimes.

 
*Oh, ya… Did I mention that I was contacted by people who said they'd like to publish my book once I get there as well. And how I'm in the middle of editing (for the first time ever) a Treatment for what they hope becomes a feature film. And that I've been asked by a couple of dear friends who just happen to know a tiny little bit about Hollywood, if I would write their life stories. Oh, yes, my friends… So, we'll just wait and see what God's going to do! :)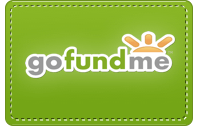 *Anyways, If you wouldn't mind taking a moment to read our GoFundMe Campaign please, I get into a lot more detail regarding the personal medical challenges I live with and why we need your help to move to the East Coast now. It's something I've never shared, don't talk about and try to hide, but I can't anymore. So, just know that everything I've done, do, or will continue to do… I do it, as do most, while living with more challenges than the eye can see.
Once you read about the Campaign too, you'll see that there's so much more to my story than just having survived being kidnapped or working undercover for a decade. I am more than the abusive family I was taken from at age 12 or of being a foster child multiple times over. There is more to me than all the emotional and physical scars I bear, as a witness to God's healing grace, mercy and love. For, I believe we are all saved to give our testimonies and mine is one of multiple and severe tragedies (yes, that's PLURAL) of being molested, raped, tortured, kidnapped, clinically dead twice, displaced, unwanted, abused and unloved…
*BUT! Let me also share that for every tragic event done by man, the Holy Spirit planted seeds of hope, faith, courage and love within me. For every single piece of my life that evil intended to use by bringing destruction and death into my life, God has had my back this whole time! He continues to make all things good and is the giver of life. God makes right and replenishes in abundance what others have stolen. He is a good, good Father!
*So, this post coupled with the Campaign gives you an idea of my whole story now. I've just not had the courage to put it ALL out there yet in one piece, but it is time. It was supposed to all go in a book instead to be much more organized than this, and it still will, but there you have it.
Love, Hugs and Thanks Friends!
P.S. If you don't like the GoFundMe option, I also have a PayPal button at the bottom of this site you could use instead. Then, I manually add the amount we receive to the Campaign, so that the total raised which everyone sees remains accurate. Both options allow you to make an anonymous donation though if you so choose. We'd greatly appreciate your help in any way whether it's a financial contribution, the sharing of this post or better yet, the GoFundMe Campaign itself (where I've been posting updates about the incredible things God has been doing on this trip already!)